I have the most beautiful batch of Less Traveled Yarn for you (and me)! Most of the colors I'm showing off here are available on all four LTY base yarns we offer, 757 Sock (classic merino/nylon sock blend), Tweed Me Sock (superwash merino with nylon tweed), Tweed Me DK and Sport (a rare hand dyed merino/nylon sport weight option). As I was photographing, these were the combos that really caught my eye. I'm betting when you peruse the yarn you'll see colors that you think look nice together too. And if you want assurance that they look as great as you think, you can always e-mail me, Allison, at service@simplysockyarn.com and I'll take a look in person. We see a lot of you just place orders, and then in the notes field at Check Out say something like "hey, I'm going to use these colors for this pattern so if you think there's a better choice, please let me know." and we're always happy to be your personal shoppers that way too.
Yes, we have the most stunning selection in stock right now, but I have even more coming for the holidays. I have some really cool colors on their way that are perfect for your winter knits and I can't wait to share them in a couple weeks along with the other holiday inspired goodies. 
Above, Natural and Burnout. Below, Lunar Reflection and Nightfall on 757 Sock. Maybe two colors for a Girl at the Grocery Store  or Seabrook Sweater, or one color for an Autumn Waves Wrap or Hermione's Everyday Socks.
Below, Turning Leaves and Merlot on Tweed Me DK. This would make an adorable tweedy Deauville Hat or Boy Sweater.
The Tweed Me Sock colors would make a stunning Calluna Pullover too. So let's do a contest! Answer the following question in the comments below, and I'll randomly choose three people to win a skein of Less Traveled Yarn of your choice (to get you started on your sweater or another project) AND a Ravelry coupon code to make the Calluna Pullover pattern free. All you have to do is tell me your favorite color/base. Like "I adore Turning Leaves on Tweed Me Sock" or "My fave is Fluorite on 757 Sock".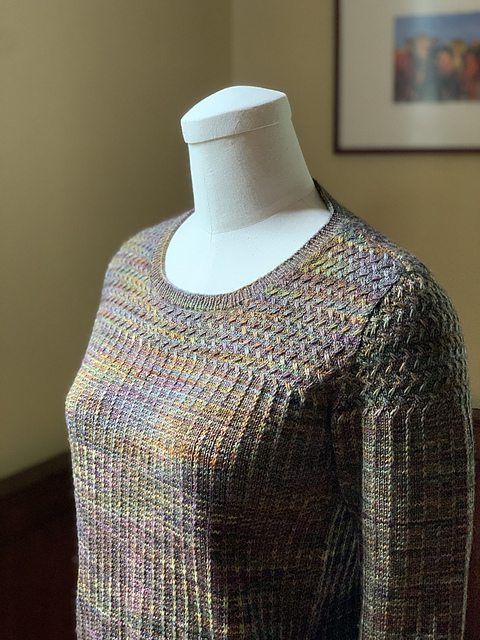 Leave me your comment before noon EST on Friday, November 19 and I'll choose three winners. And I'll also be giving out a pattern code and skein on Instagram this week too, if you want another chance to win.
The Calluna Pullover calls for Malabrigo Sock, which we offer all the colors of, so if you want to make that sweater for you fall/winter wardrobe, just know that you'll find a great selection of those colors too. Madelinetosh's Tosh Sock would be stunning too and b/c we have over 300 colors you're likely to find more than one option you love.